This month we will be looking at what some may consider one of the lesser exciting aspects of the guitar app world – the metronome. But please, do not be alarmed. All is not lost. This metronome has a couple of tricks up its sleeve which not only put it a cut above the rest of the metronome apps out there, but also make it a very interesting tool for developing your craft. Welcome to Time Trainer.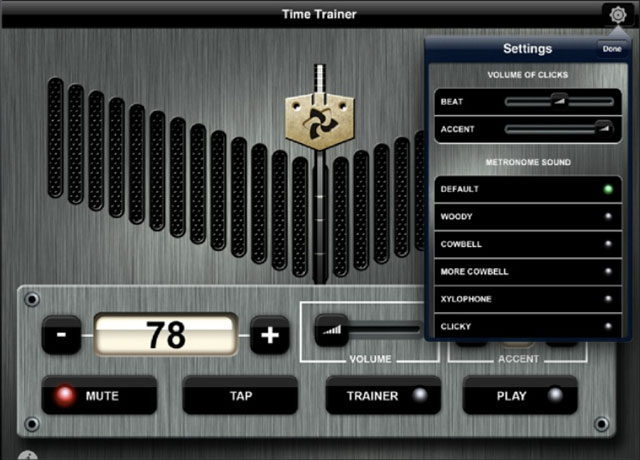 Time Trainer is above all else a metronome. I have spent an hour or two testing it and have been very impressed with the quality of the metronome, and its ability to keep time. I know this doesn't sound overly impressive, but the timing of this app is very accurate (tested against a Pro-Tools and Cubase click track, and also an Alesis SR18 drum machine) and along with the standard beat accent settings and kit sounds, the tools on offer in this app are certainly interesting and relevant. In fact, one feature on this app I have not actually seen in an app before – the option to emphasise certain beats, which is particularly helpful for playing styles of music where the emphasis does not necessarily fall on the first beat, like Reggae for example.
One feature I liked was the 'Beat Drop' feature, which will magically remove bars and odd beats from the metronome, which is a very creative way of teaching guitarists (and other musicians) how to count measures intuitively and promotes rhythmic progress, all of which can be customized within the app itself. This is fantastic for those looking to play guitar with others in the future, as some drummers and other musicians can struggle with time keeping. Behaviors such as this, also promote the users ability to count measures in on their own, for when there are potentially no drums to play along to, or if there is a rhythmic mishap and the pressure is on you to supply the time keeping for a short amount of time. As odd as this sounds – it happens, and it is a very good idea to be prepared for such events when in a live situation.
The other function of interest that I noticed was the aptly named 'Speed Upper' function, which allows the user to set a start and end tempo which will then gradually increase over your set period. Again, this is another tool that you will seldom see in an app of this type, and engrains into the user a better understanding of how to naturally increase tempo during a performance, particularly useful for some sub-genres of metal and jazz where tempo changes are common place.
In conclusion, Time Trainer will never blow your mind, but it will also not empty your wallet. For the price I would say this is an essential tool for any musician and leads on nicely from where some other guitar apps dare not venture. Sure it's not as exciting as some of the amp modulators or recording programs, but it is important to walk before you can run, and with this you'll be walking all on your own and causing mischief in no time at all.