Master these easy guitar songs for beginners.
Play songs by The Eagles, The Beatles, The Kinks, David Bowie, America, Van Morrison and many more. Each song listed below is complete, with detailed videos, tab, chord charts, and song structures.
If you're just starting out playing the guitar, then maybe you should start with Horse With No Name by America, which only has two simple pairs of open chords (played with just two fingers), and a consistent strumming pattern.
If you're more of an advanced beginner player, then you might want to try one of our songs with a few more chords, faster chord changes, and slightly more advanced rhythm patterns like either Crazy Little Thing Called Love by Queen, Brown Eyed Girl by Van Morrison or Lola by The Kinks.
And if you're comfortable playing both barre chords and open chords, then I'm sure you'll enjoy playing Sister Golden Hair by America.
Simply click on one of the links or images below to choose your easy guitar song lesson.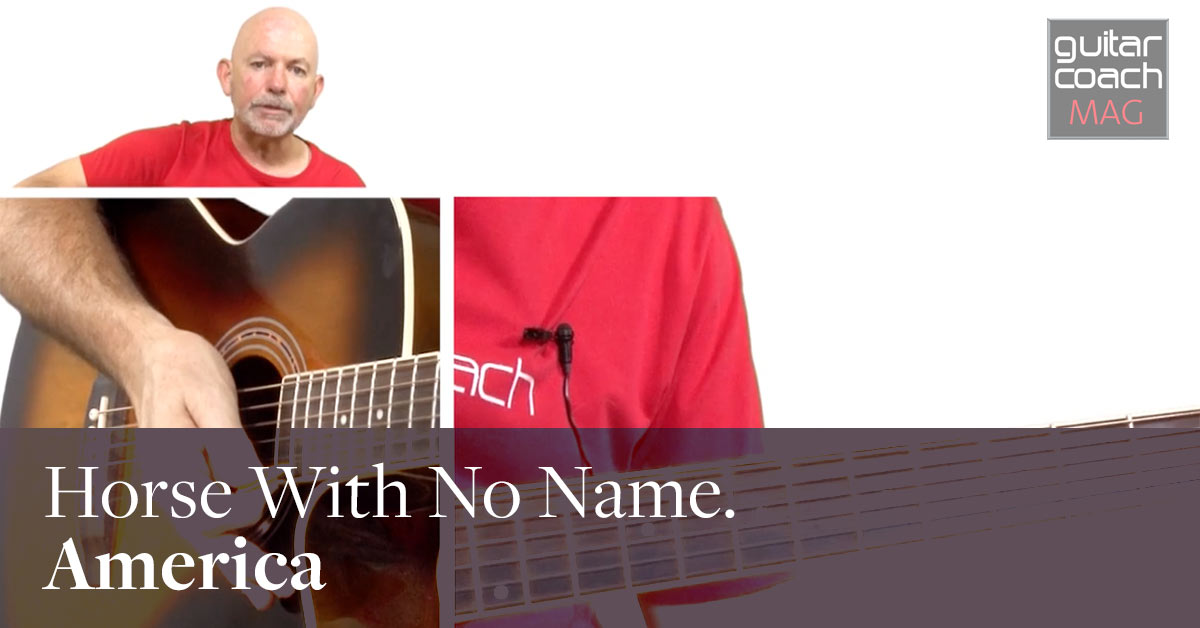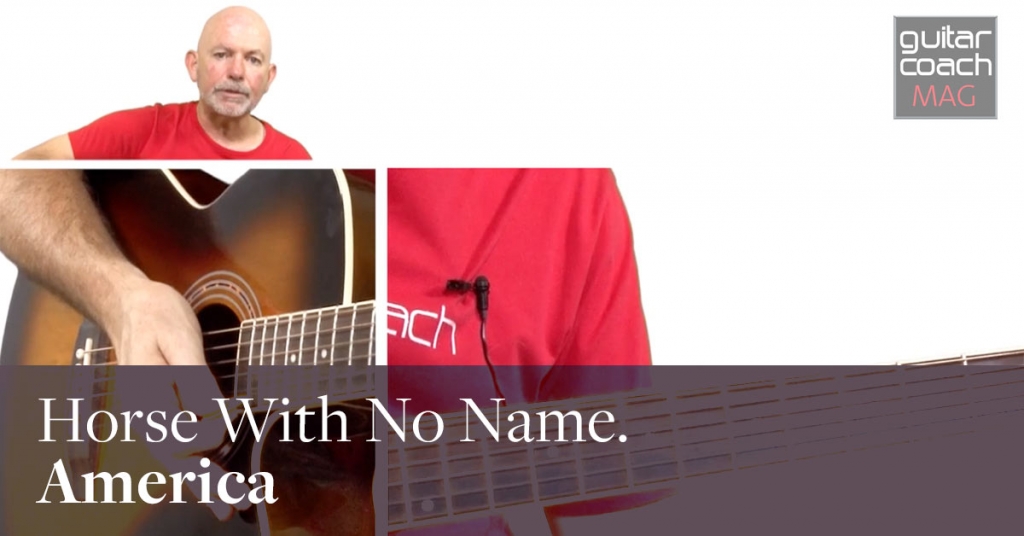 Have you ever wanted to play a classic song that has some unusual chords that are easy to play? Well, try Horse With No Name by America. Apart from Em, the 4 chords used in this great song are not only unusual, but are very easy to master.
This song has a simple and even strumming pattern, but there's some subtle strumming accents which give the song it's unique and distinctive sound.
The first step is to get the chord changes smooth and to be able to switch between chords without needing to look at your fretboard, using a simple slow strumming pattern.
Once you've got the chord changes working well and the strumming even, you can then start to work on the accents. This is such a great easy song for everyone, at all playing levels, to learn.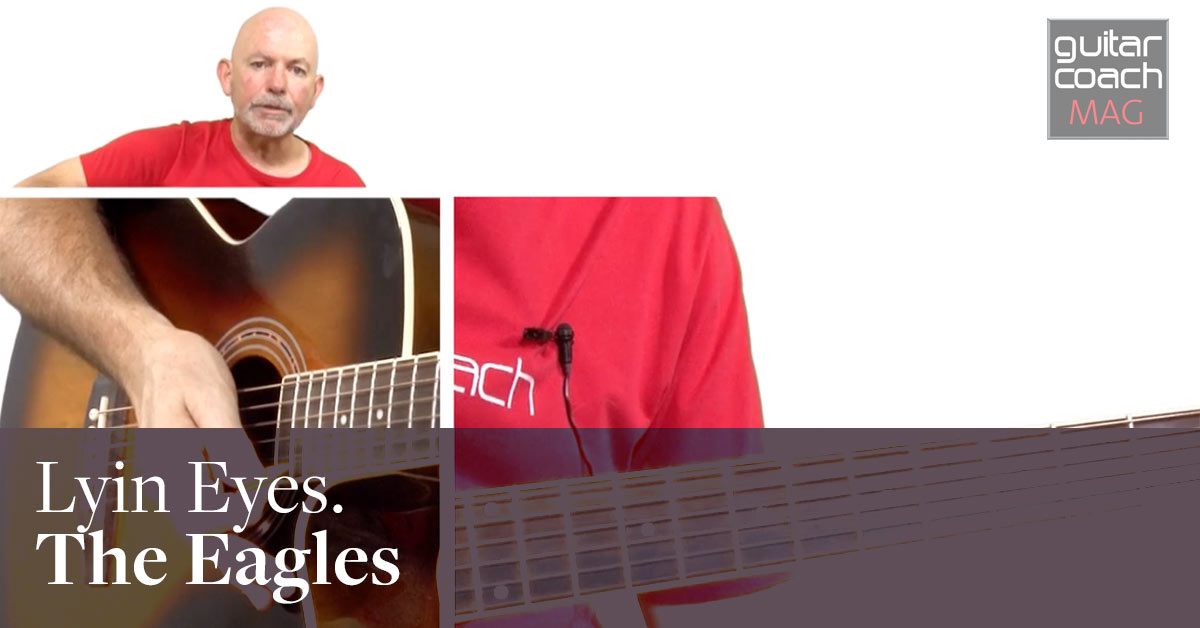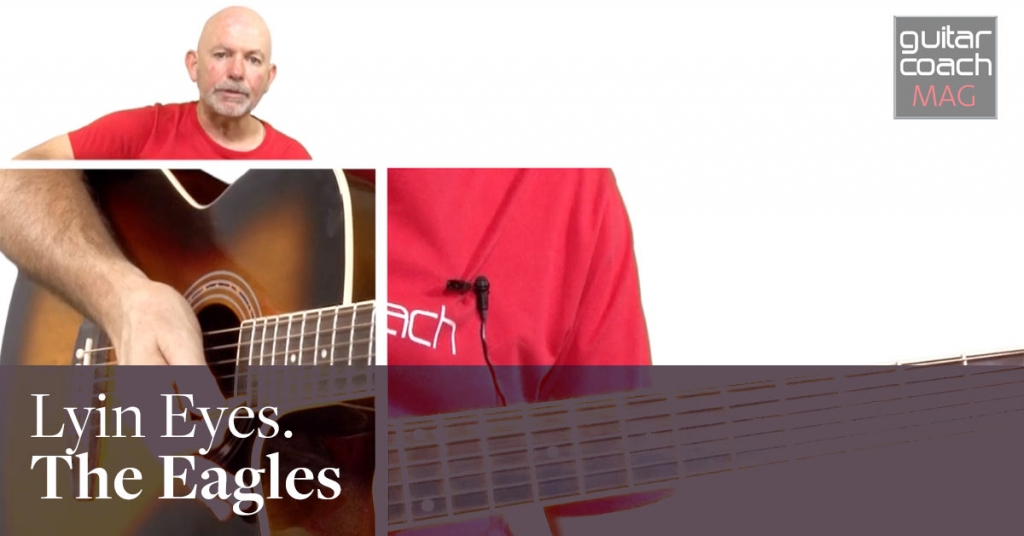 Lyin Eyes is certainly one of the all-time classic Eagles songs. It's actually quite easy to learn and play, as it only uses open chords.
There's a total of 6 easy chord you need to learn. The trick to playing this song well is to have a really smooth and even strumming pattern, and fluid chord changes.
The most challenging aspect of learning this song is mastering the G Major 7 chord, as the fingering of this chord does take a while to master. Also before you start playing this song make sure you become really familiar with the song structure.
I find it best to check out both the studio sessions and some of the live performances on YouTube too.  OK, so let's get started! I've includes the chord charts and song structure for you, so you can fully master this great guitar song.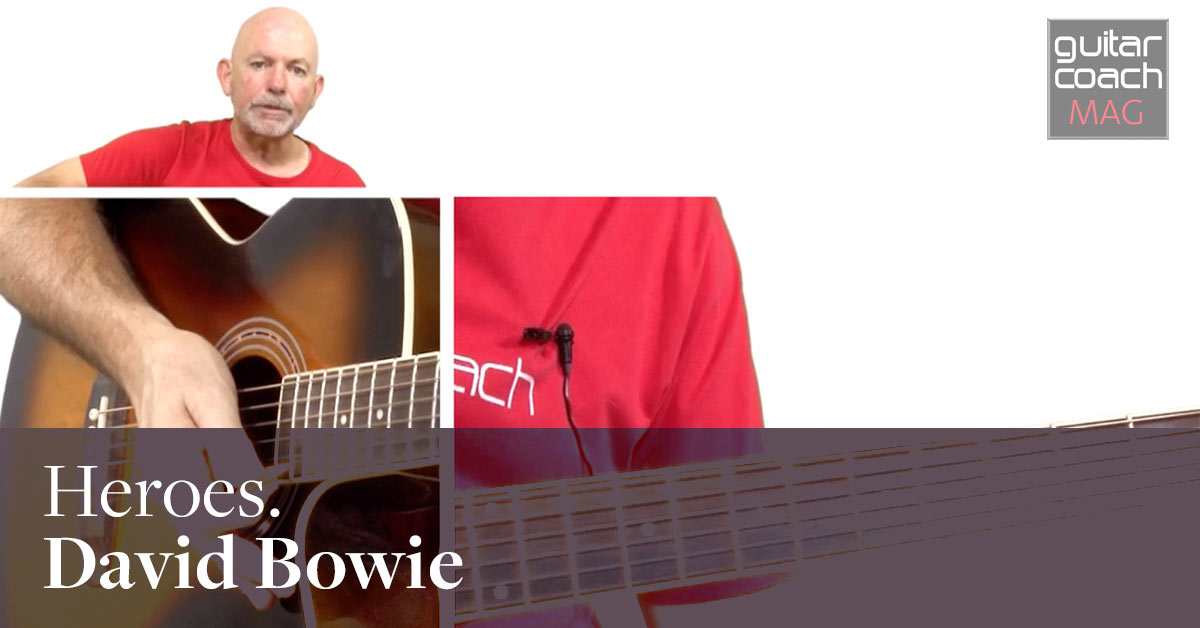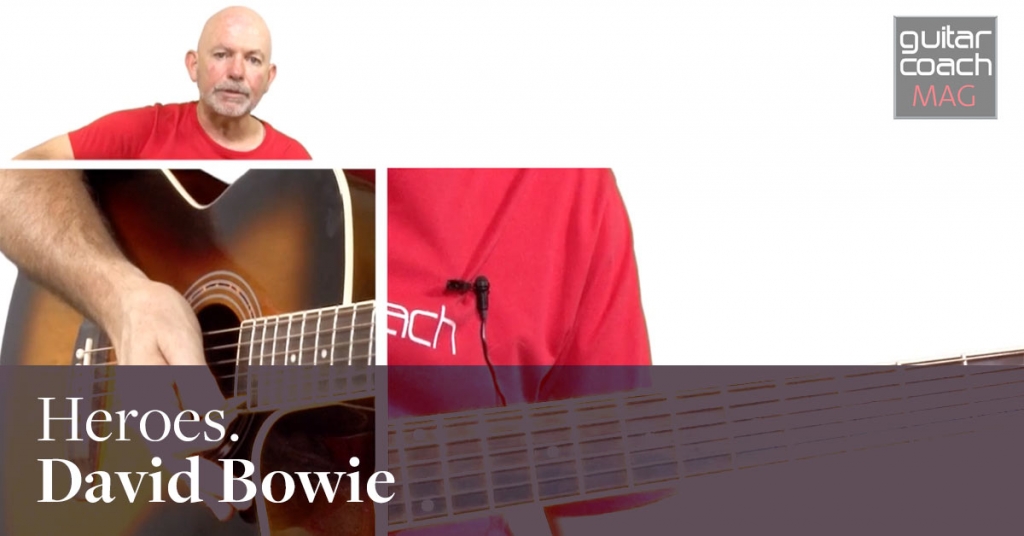 This song is a fitting tribute to the true musical genius that was David Bowie. Although there are just a few simple open chords in this song, there's a neat little melody line which you can create by simply moving just one finger.
As you'll see this song relies quite heavily on the technique of palm muting, which is a great technique to learn and master. It's a technique that you can apply to pretty much any song, to add some additional texture to your guitar playing.
I've also got a full backing track for you, to really make learning and playing this song a joy. If you listen to some of David Bowie's live recordings on You Tube, you'll see how versatile this song is, and how you can maybe create your own version.
I hope you have fun playing the song and remembering the vast and varied music of Bowie.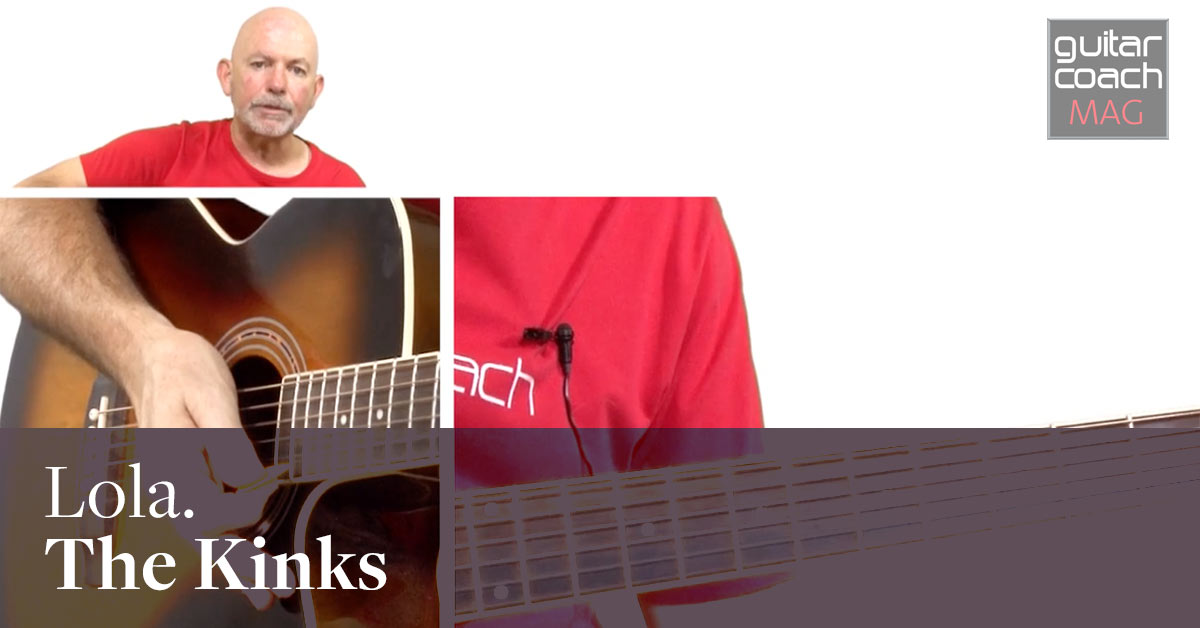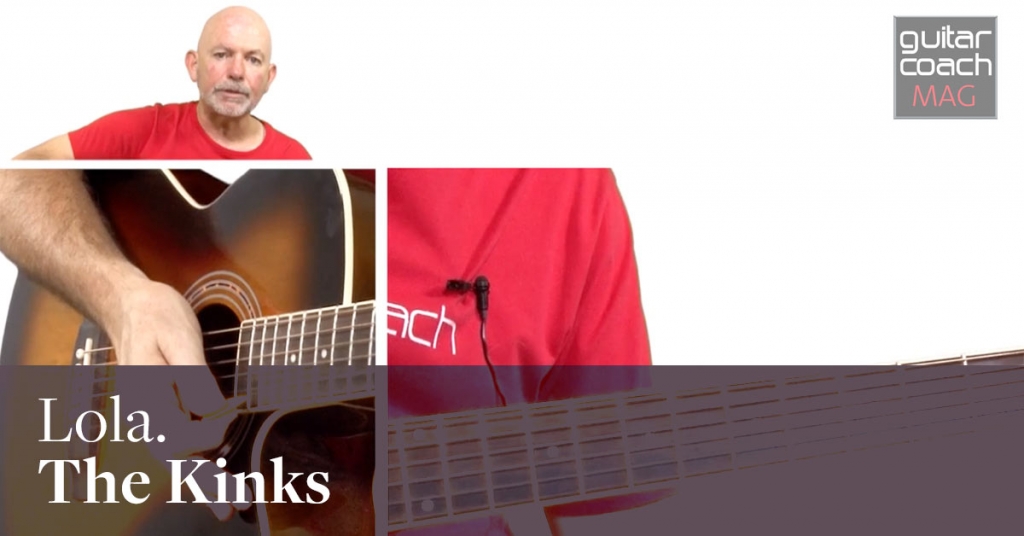 I was really pleased this song made it into the top 5 Guitar Coach Easy Guitar Songs to learn. Originally recorded by The Kinks and written by lead singer Ray Davies, it was released in the UK in June 1970. Now there are a couple of ways you can play this song.
So to start with I'd just play the song intro strumming the chords.
But once you've got the chords nailed and can play the song along to the record at full tempo, then you can move on to the string picking of the the song intro chords. Now as you'll see in the video, there is a precise pattern to this, or at least certain notes you need to hit in order for it to sound distinctive and like the original song.
However when you first start out with string picking it's best to really slow it down – and it's certainly ok to look at your picking hand whilst doing this.
With practice you'll find your muscle memory will develop to the point where your pick will naturally land on the string you want to hit. But be patient and practice slowly to start with – ideally with a metronome so that you keep your picking smooth.
So have fun with this classic song – it's also a great sing-along number!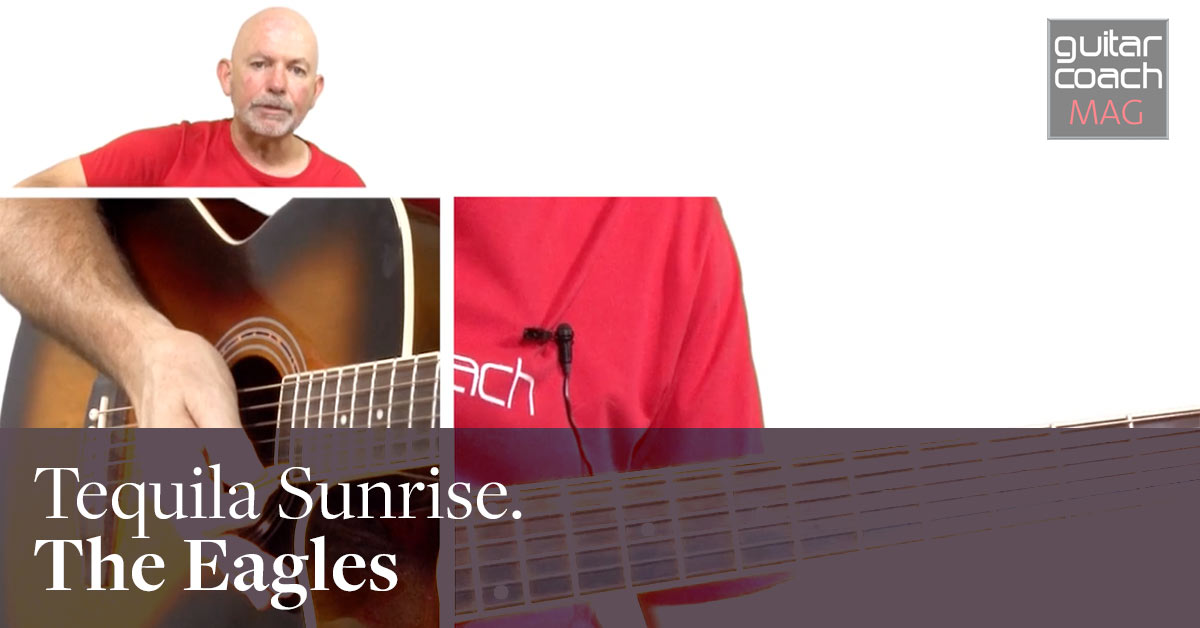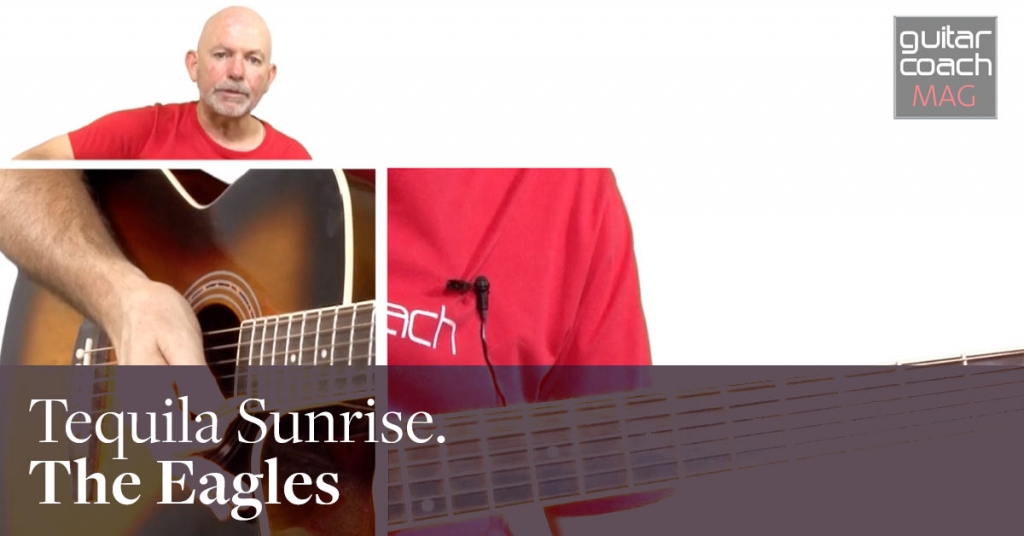 Tequila Sunrise is another Henley/Frey classic, this time from The Eagles second album, Desperado. Tequila Sunrise was released as a single in 1973 and, unbelievably, only peaked at number 64 on the Billboard Hot 100. Although, since then, it has gone on to be an absolute classic – well, to be honest, it always has been.
Once again we're mainly using simple open chords which you're probably already familiar with, but we do have one barre chord in this song which is a B Minor. There are a couple of fun challenges for you master in this song. Firstly is the chords themselves – or more importantly the number of them!
There's 10 chords in this song, so there's not only a challenge in being able to play them, but more importantly remembering what order they're played in, and being able to smoothly switch between different chords, and in different orders.
The second key factor in mastering this song is the accented strumming, combined with the hammer on. This is a new technique and one that takes some practice, particularly with acoustic guitar.
But the combination of the accented strum with the hammer on technique is a recurring theme within the song. Once you've nailed that then the song really starts to come together. It's a great song with some fun challenges to really improve your playing.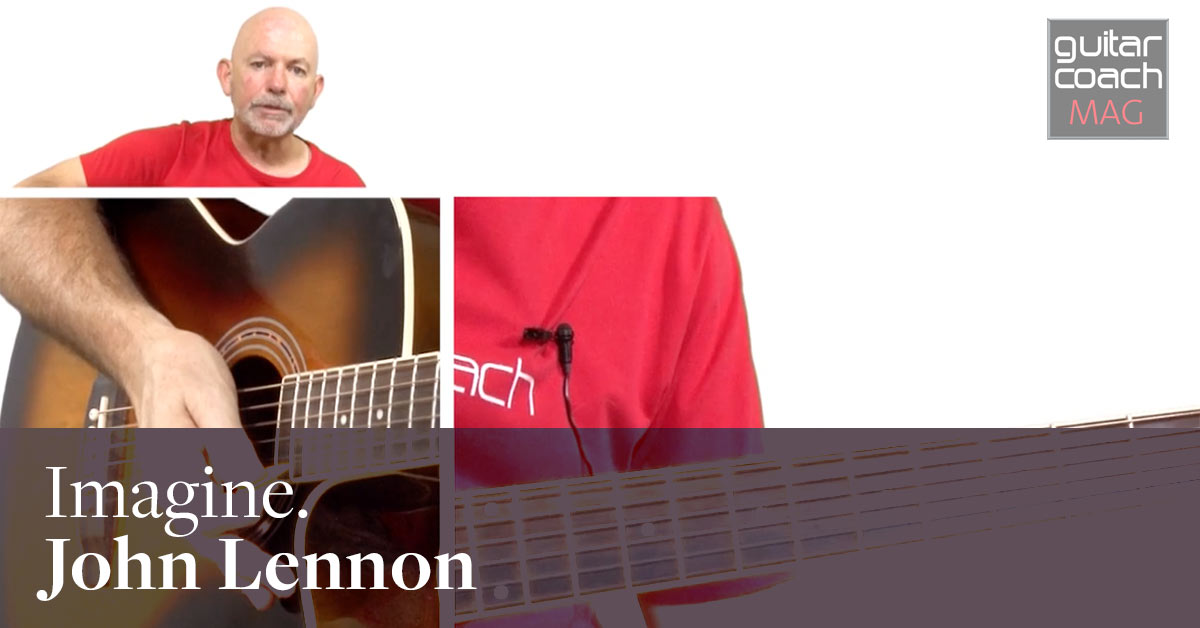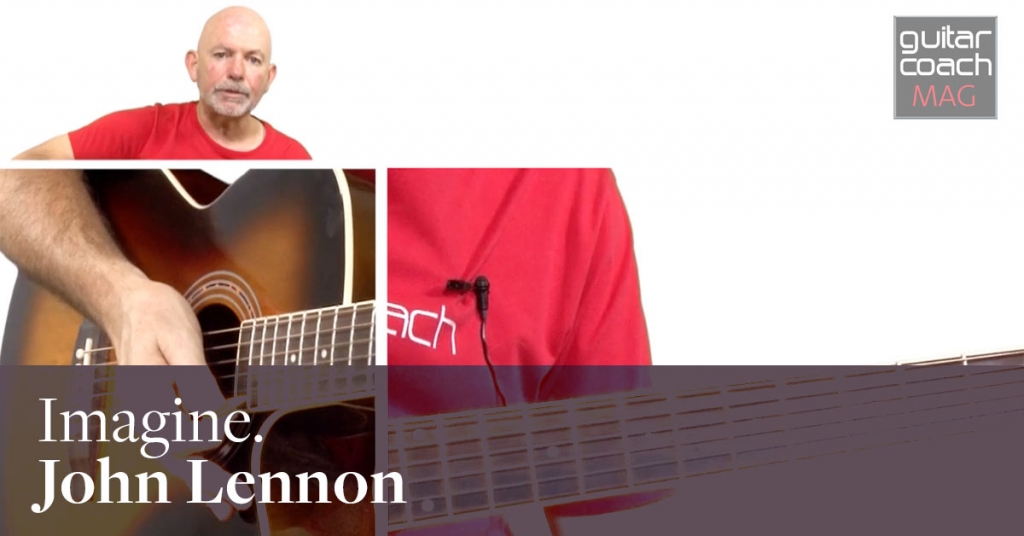 This iconic piano-based classic should form part of everyone's guitar repertoire.
Written and sung by John Lennon, Imagine was the best selling single of his solo career. Although on the surface this seems like a very easy song to play, it's a great way to develop your playing technique, as you'll be switching between rhythm and melody playing – which is definitely more challenging than it first looks.
However being able to smoothly make the transition from picking notes to strumming chords is a technique that can be utilised in many songs, so it's worth the time and effort getting it right.
As with learning to play any song, you need to start slowly and focus on accuracy first, and speed second. Once you've nailed it you can enjoy playing along with John 🙂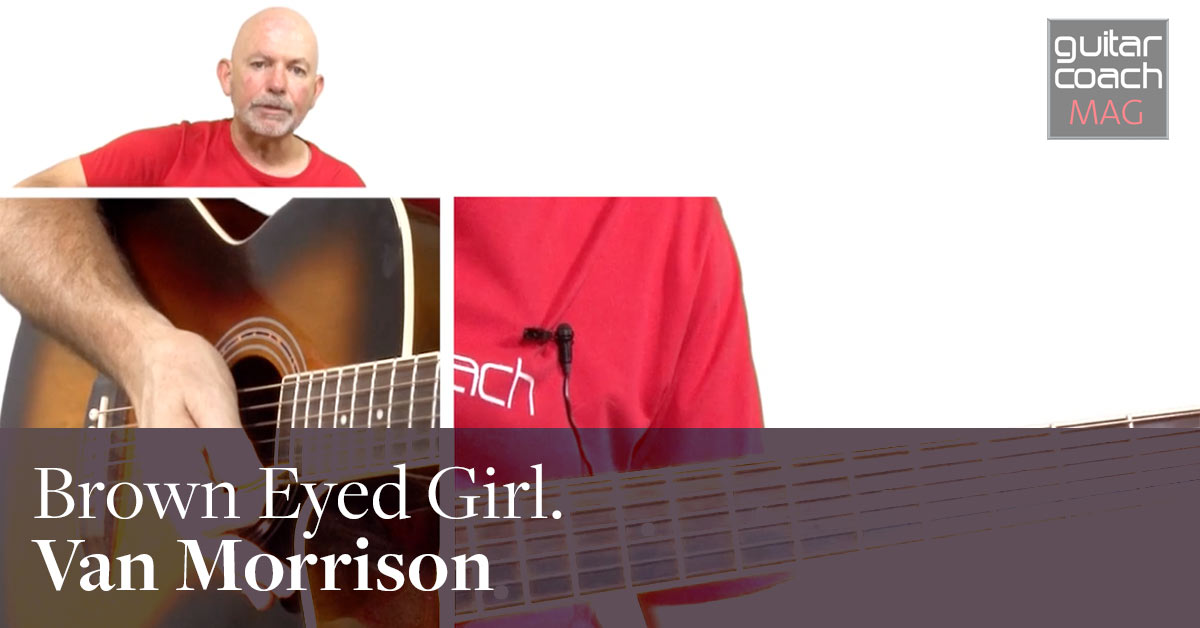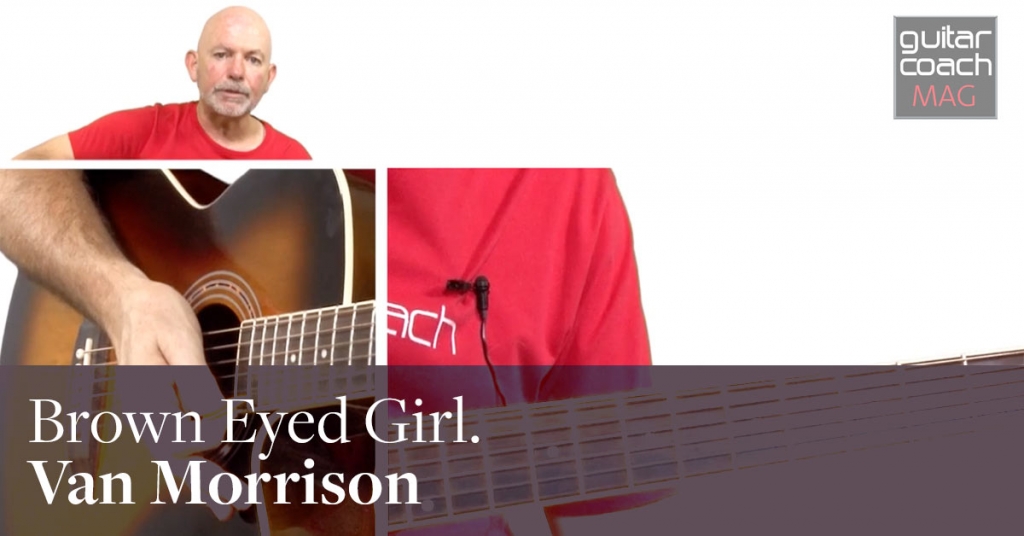 If you ask anyone to name a Van Morrison song, you can bet your bottom dollar most people would say Brown Eyed Girl.
The iconic intro (using double-stops) along with the unforgettable melody and sublime lyrics, make it one of those easy guitar songs to learn.
Although this is a straightforward song in terms of simple open chords (which you're probably already familiar with), and a simple repeating song structure, there are a couple of different strumming patterns you can use to give the song some additional colour and feel.
The technique I use to practice strumming patterns is to simply mute all the strings, so you can more clearly hear the pattern without getting distracted by the full sound of the chords. You should try this for yourself as I'm sure it will help you. OK, let's get started and have some fun!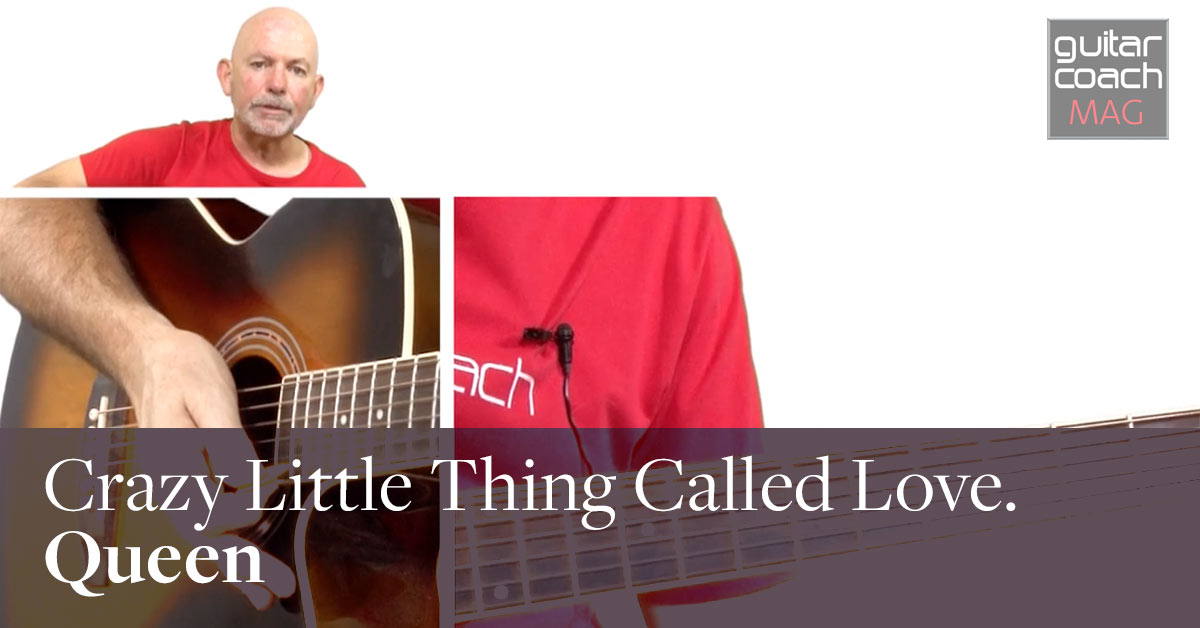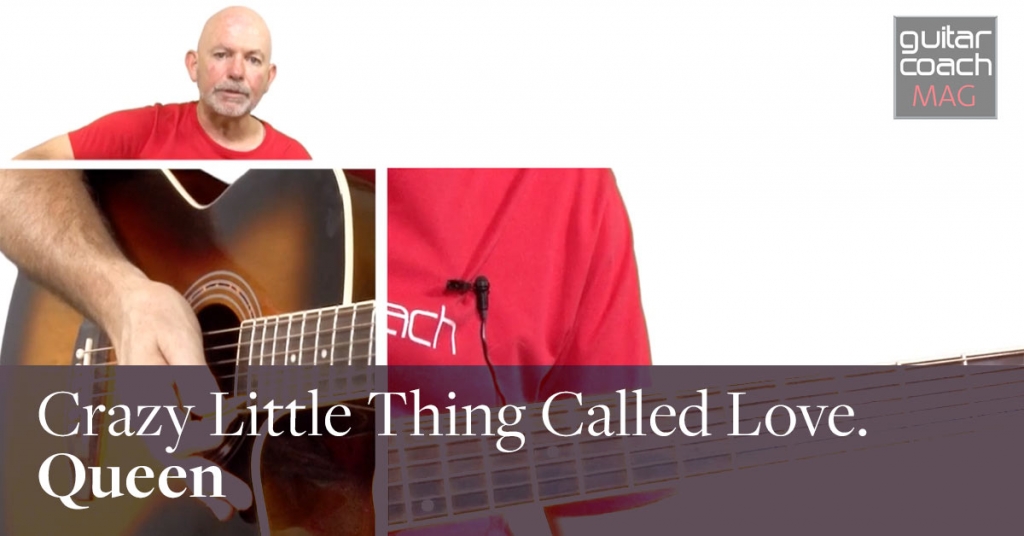 This brilliant but easy to master song has everything a beginner guitarist needs – open chords, simple barre chords, and a couple of lead guitar bits that break up the different segments of the song. So a bit of everything for everybody.
The song was written by Freddie Mercury as a tribute to Elvis Presley, and the entire song was reportedly recorded in less than half an hour!
Now, although when you first hear this song, you might think it's a bit challenging, but when we break this song down into all the separate components it become so much easier.
Probably the most distinctive part of the song is the intro using the open D Major chord. It's great fun to play and has a real pace and drive to it, so once you start playing it you'll never want to stop!
There are a few barre chords in the song, and some fairly quick chord changes, plus I've also tabbed out the lead riff for you so you can play the whole song along with Freddie!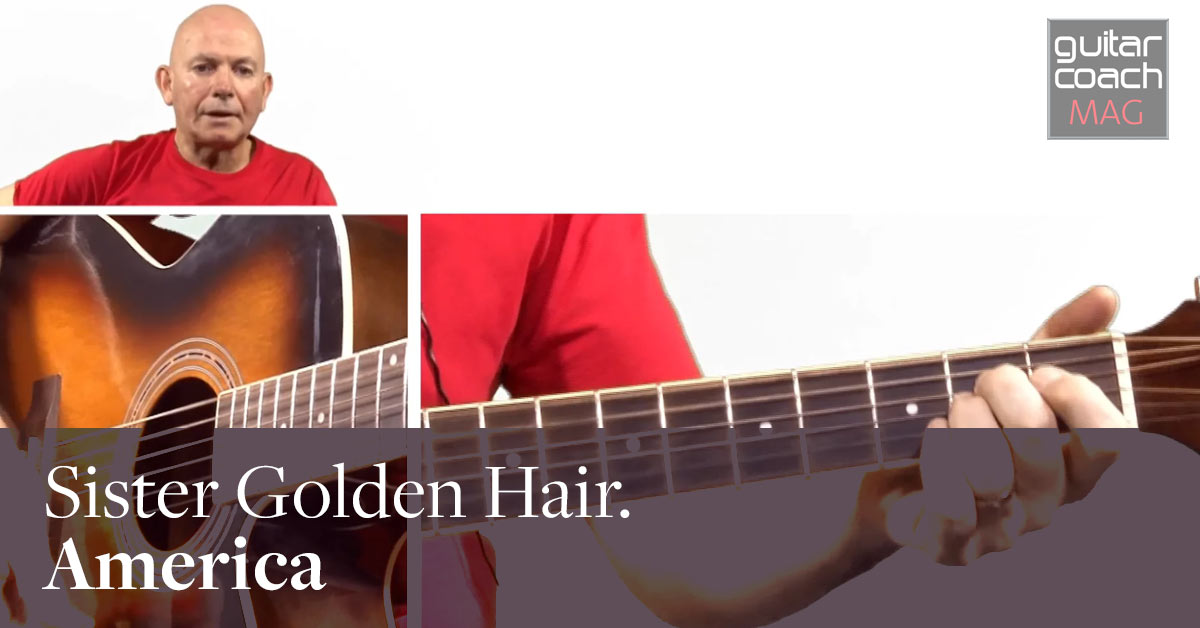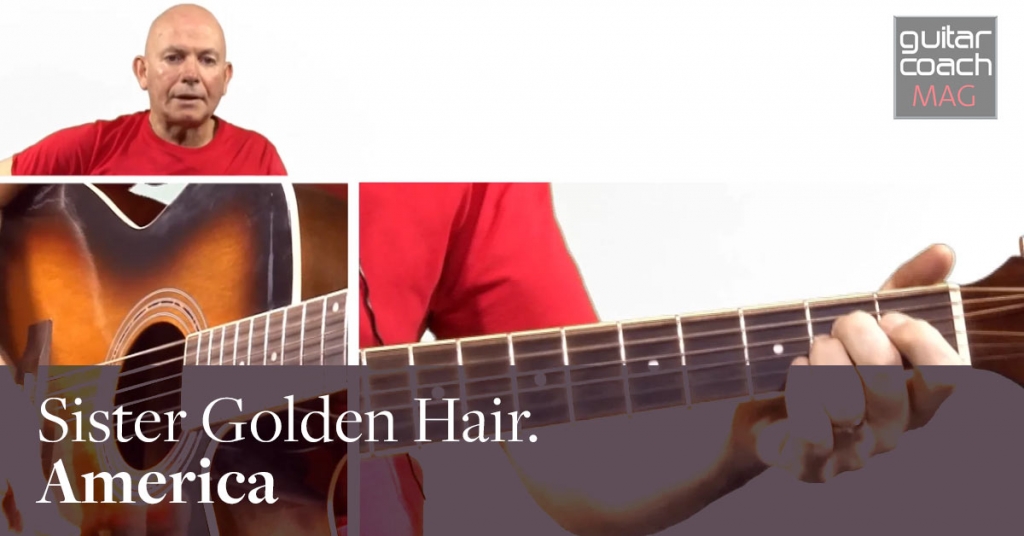 On first listen, Sister Golden Hair sounds like a fairly easy guitar song to master. But listen carefully and you will hear a few chords that do not quite sound "standard".
Plus there's some fairly quick chord changes which also add to the challenge – but great fun!
Now, I've really gone to town on the videos in this song for you.
There's a total of 4 videos, which break the song down into easy to learn components, so you can work on the song one piece at a time. There's a total of 8 chords in the song with a mixture of both open and barre chords, but the challenge comes in remembering the order of the chords, as they appear in different sequences in different parts of the song!
So this is why you'll need to learn this song one segment at a time and make sure you've got those chord sequences and changes firmly in your memory.
But I've also given you the full song structure, so once you're familiar with the song you can follow along with the structure whilst playing. Then once you've got it nailed you can play Sister Golden Hair along with America 🙂