Yes Please! Give Me Instant Access To Classic Riffs Volumes 1, 2 & 3.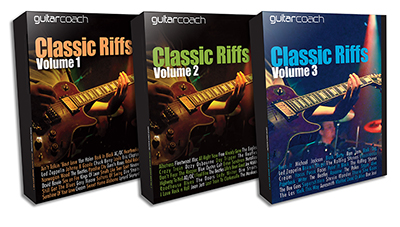 Give Your Guitar Playing The Boost It Needs And Deserves.
Be inspired to grab your guitar and play something exciting and really cool.

Effortlessly ramp up your playing skills, and confidence.

Experience that look of total surprise and wonder, on the faces of your friends and family when you quickly master these 42 Classic Guitar Riffs.
There's a total of 128 multi camera videos in this collection, plus full tab and backing tracks. And it's all downloadable, so you don't need to be online to really have some fun.
Your purchase is fully covered by our 30 Day No Risk, No Nonsense Guarantee.
We want you to be really excited about playing guitar, having fun, and nailing these classic riffs. But, if for any reason at all you don't get inspired, or motivated. Or if this is just not right for you at the moment, then no problem, you're covered. Simply click on the Green "Help?" button in the bottom right hand corner of this page and request your refund. We'll immediately give you every penny of your money back that you invest today. This button is on every single page of the Guitar Coach site, so its quick and easy to get in touch with us or request assistance.
Great Product! Looks like I got a lot of guitar playing ahead of me.
Ramon Moreno
Well presented package does what it says on the tin. All that remains is for me to set aside the time to practice!
Ian Meyer
Definitely an 11 on the Marshall Scale…
Christopher 9755
What more can I say. He offered a good product then delivered on it. Great job. Easy to follow
Scott Jones