Classic Riffs Tab Book & Video Coaching
Step 1: Download Your Tab Book Now!
Step 2: Get Instant Access To These 42 Classic Guitar Riffs: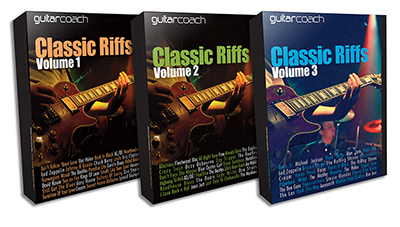 Ain't Talkin Bout Love: Van Halen, Back In Black AC/DC, Heartbreaker: Led Zeppelin, Johnny B Goode: Chuck Berry, Layla: Eric Clapton, Norwegian Wood: The Beatles, Paradise City: Guns n' Roses, Rebel Rebel: David Bowie, Sex On Fire: Kings Of Leon, Smells Like Teen Spirit: Nirvana, Still Got The Blues: Gary Moore, Sultans of Swing: Dire Straits, Sunshine Of Your Love: Cream, Sweet Home Alabama: Lynyrd Skynyrd, Albatross: Fleetwood Mac, All Right Now: Free, Already Gone: The Eagles, Crazy Train: Ozzy Osbourne, Day Tripper: The Beatles, Don't Fear The Reaper: Blue Oyster Cult, Enter Sandman: Metallica, Highway To Hell: AC/DC, I Feel Fine: The Beatles, I Love Rock n Roll: Joan Jett, Lady Writer: Dire Straits, Last Train To Clarkesville: The Monkeys, Life's Been Good: Joe Walsh, Roadhouse Blues: The Doors, Beat It: Michael Jackson, Black Betty: Ram Jam, Black Dog: Led Zeppelin, Brown Sugar: The Rolling Stones, Crossroads: Cream, Hocus Pocus: Focus, Paint It Black: The Rolling Stones, Paperback Writer: The Beatles, Roxanne: The Police, Stayin' Alive: The Bee Gees, Superstition: Stevie Wonder, There She Goes: The Las, Walk This Way: Aerosmith and Wanted Dead Or Alive: Bon Jovi.
Limited Time Offer: Get Classic Riffs Volumes 1, 2 and 3 at a Massive 98% discount!
{tcb_current_year} Guitar Coach Magazine. All rights Reserved | Contact | Terms Of Use | Privacy
[tcb-script] !function(f,b,e,v,n,t,s) {if(f.fbq)return;n=f.fbq=function(){n.callMethod? n.callMethod.apply(n,arguments):n.queue.push(arguments)}; if(!f._fbq)f._fbq=n;n.push=n;n.loaded=!0;n.version='2.0′; n.queue=[];t=b.createElement(e);t.async=!0; t.src=v;s=b.getElementsByTagName(e)[0]; s.parentNode.insertBefore(t,s)}(window, document,'script', 'https://connect.facebook.net/en_US/fbevents.js'); fbq('init', '593223574120285'); fbq('track', 'PageView');[/tcb-script][tcb-noscript]
[/tcb-noscript]