"Let the blues be blues. Get to understand it. Take time to learn before you try to change what ain't broken."
Rising blues star credits father for education & inspiration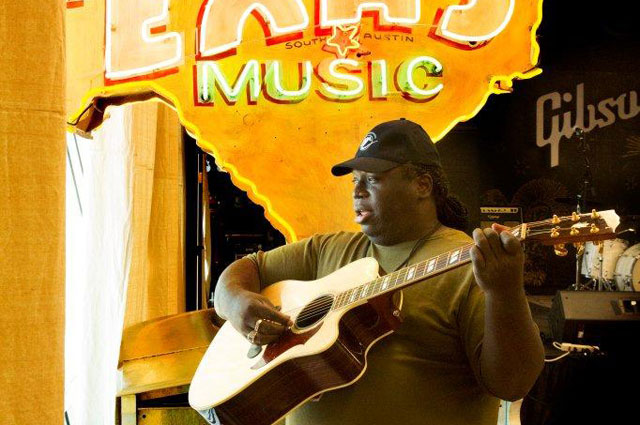 Guitarist Eugene "Hideaway" Bridges, a native of New Orleans, with seven albums to his credit and three recent nominations from the Blues Foundation, lives the life of a nomadic musician, traveling throughout the United States, Europe and Australia, spreading the blues gospel far and wide. The 49-year old son of bluesman Hideaway Slim, is distantly related to Tina Turner, formerly known as Anna Mae Bullock.
"I got my guitar skills form the Bridges, and my voice from the Bullocks," says Eugene.
"I remember when I was two years old singing myself to sleep to the sound of things my daddy would play. The riffs he played were always in my head, so one day, I took my plastic spade and put elastic bands on it. My dad saw that, so he set me down and placed his guitar in my hands and started to show me a honky-tonk riff, and that was my start. I looked within myself to find other sounds that were in my head.
"Daddy showed me the Jimmy Reed riff and what you call the 1-4-5 card in blues. We called it your 1st, 2nd and 3rd change and the open E tuned guitar, and that was the end of my guitar class! I was two, about to turn three when I played back up for him. Along the way, you see things and do things that are a real good teacher in life. I always played what was inside me that was needing to come out. I was blessed with this music, and you can't learn this from a school or a teacher. Someone cannot teach to you. It is in you, or it is not.
"Daddy led by talking to me about life. To be a good leader, you must learn how to follow and hear what the song is saying to you, what the singer is trying to say, and play that together. When I was seven, daddy says to me, 'Are you gonna' practice?'
I said to him, "I know how to play my guitar." He said, OK, play your guitar, now play something different, and on and on like that. Real soon, I run out of things to play!
"He said, 'See. You don't know it all. Take that guitar and put it away. Don't touch it until I tell you.' I had the 'Big Head' at seven years old! If he didn't stop me, I would have been walking around today thinking I am the greatest! Daddy was teaching me that I knew something and it was good, even great, but I did not know it all. He was teaching me to always learn, always keep looking, keep paying attention, as there's so much to learn, but only if you open your mind."
The elder Bridges continued to use his common sense technique to educate his son in positive ways.
"Daddy would teach me to listen to the sounds. Let the guitar talk to you and to the people. I used my guitar to say what life was saying to me, to hear what the singer was saying, and finding a way to accompany that. You have to find it yourself and earn it yourself."
The Church Influence:
Like the vast majority of African-American musicians, Eugene's father was influenced by the gospel music and sermons he heard in church. His family belonged to the First Church of God in Christ in New Orleans, and Bridges senior found inspiration in the guitar playing and singing of Reverend Utah Smith.
"Daddy played like Elder Smith, and I played just like daddy. Names like B.B. King, Jimmy Reed, T-Bone Walker and Lightnin' Hopkins was all just names to me as a boy. Daddy would play the records and learn from them, and when I heard daddy play, it was full of these guys, but putting himself into it. This is how people say I sound like B.B. King when I never played a B.B. King song.
"B.B. King was the guy that had a way of teaching without even knowing he was teaching. B.B. set a way of having many people on one stage working together. I would not only see the forest, but the tree and all the parts; how the drummer is the time keeper, how the bass holds a dedicated groove, how guitar, horns and keys work together, each doing his own job to make that sound full and real."
Today's Blues Scene:
The life of a traveling blues musician has never been easy and it's no different today, as the blues has a tendency to exist in hills and valleys of popularity. Many would say it is way down in the valley right now, with other types of music taking precedent.
"A popularity contest is the first thing that comes to me, and that is why I have to let the music speak for itself. I will only play for the ones who want the real music and not the games. I am so sick of the haves and have-nots game. What you put in is what you get out. If a gimmick is what the people want, then there's a lot to go and see, but if my music is something that speaks to you in any way, I will only play where my music is welcomed."
Many blues players have complained that getting work is harder and harder and drawing crowds has gotten tougher over the last several years.
"In the USA? I wouldn't know. (Bridges spends most of his time playing out of the USA-author). I hear some of the bands talk about people and having money troubles is a big reason, but I was signed on a record label when I went to France in 1995, and agents have me working all over the place.
"Blues and hip-hop is all the same. Between the 1950's and 2012, the beats have changed, but if you write down the stories to a blues song and words to a hip-hop song, you'll see they are saying the same thing. You can't just drop in and sing the blues or hip-hop and get away with it. You have to live it to understand it, be a part of it, and then, you must have something to say once you get in the door."
The Blues Evolves:
Lots of critics talk about the blues evolving, but Eugene has other ideas. "Blues is what it is. It doesn't need to evolve. If you don't like it, don't buy it or listen to it. You can't take an old Ford truck and turn it into something shiny and flash it out and make it fit what you think someone wants to do with it. Let the blues be blues. Get to understand it. Take time to learn before you try to change what ain't broken."
By Bob Cianci. Photos by Alwyn Coates