The Sound & Style Of Slash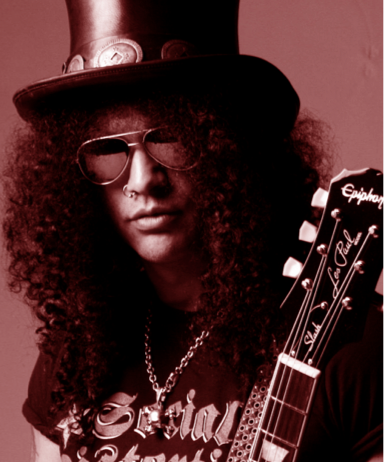 Who knew one man could bring back good time rock 'n' roll?
The man known as Slash arrived in 1988 coated in leather with a low-slung Les Paul, a top hate and an iconic cigarette to boot; Rock music was about to get a shot in the arm. Armed with the classic LP-Marshall combo Slash created simple yet solidly executed riffs and crafted vocal-like guitar solo's that are still revered today – some 20 years later. His style was the perfect blend of an earthy-bluesy core with rough, brash edges and his sharp, quick vibrato added a familiarity to his already signature phrasing. They key is image as well as style and technique.
Slash's first 'real' guitar was a hand-built Les Paul replica combined with a Marshall JCM 800; the tone was warm and round with plenty of grit and grind to get the job done. Not as gainheavy as some would think; whatever you think you should have… back it off a little.
In between those stalwarts of rock is a very sparse pedal board, but the most important one on the board is without a doubt a wah wah pedal; The most individual and vocal pedal accessible to guitarists. Slash uses it to fantastic effect in solo's such as 'Sweet Child O' Mine' and 'You Could Be Mine'. He has a signature model with Jim Dunlop effects. The other 2 pedals on the board are a Boost pedal to push the amp a?little harder for solo sections, and a chorus pedal for clean passages.
Slash liked to take his clean and dirty sounds from his amp and use very sparse effects to 'colour in' so to speak.
Top Hats are go!!!
Introduction to Slash

Recreating the Sound

Playing In The Style Of..