Learn and master these Classic Guitar Riffs. Each Riffs includes 3 super detailed step by step tuition videos, plus full Tab and Backing Track, so you can look, feel and sound impressive!
Get Instant Access right now!
Volume 2 Includes:
Albatross: Fleetwood Mac All Right Now: FreeAlready Gone: The Eagles Crazy Train: Ozzy Osbourne Day Tripper: The Beatles Don't Fear The Reaper: Blue Oyster Cult Enter Sandman: Metallica Highway To Hell: AC/DC I Feel Fine: The Beatles I Love Rock n Roll: Joan Jett Lady Writer: Dire Straits Last Train To Clarkesville: The Monkeys Life's Been Good: Joe Walsh Roadhouse Blues: The Doors.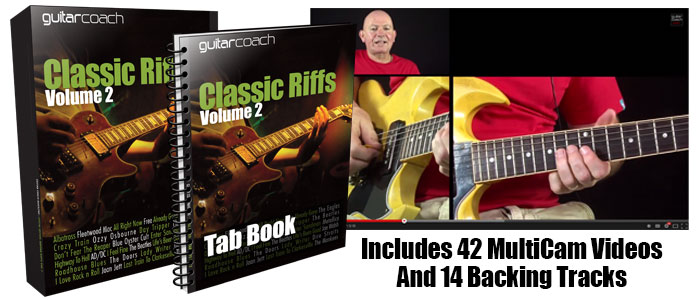 Classic Riffs Volume 2
Once you have made your payment you will be redirected to the Membership Registration page where you will be able to get instant access to this product and download the full Tab and Backing Tracks. If you require any assistance, we provide a support link on every page of the site and we'll be happy to assist you!