Learn and master these Classic Guitar Riffs. Each Riffs includes 3 super detailed step by step tuition videos, plus full Tab and Backing Track, so you can look, feel and sound impressive.
Get Instant Access right now!
Volume 3 Includes These Classic Riffs:
Beat It: Michael Jackson, Black Betty: Ram Jam, Black Dog: Led Zeppelin, Brown Sugar: The Rolling Stones, Crossroads Cream, Hocus Pocus: Focus, Paint It Black: The Rolling Stones, Paperback Writer: The Beatles, Roxanne: The Police, Stayin Alive: The Bee Gees, Superstition: Stevie Wonder, There She Goes: The Las, Walk This Way: Aerosmith, Wanted Dead Or Alive: Bon Jovi.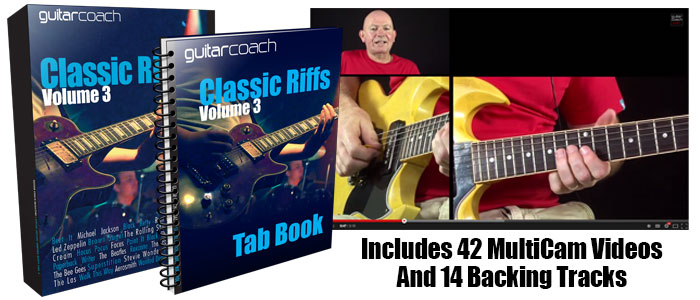 Once you have made your payment you will be redirected to the Membership Registration page where you will be able to get instant access to this product and download the full Tab and Backing Tracks. If you require any assistance, we provide a support link on every page of the site and we'll be happy to assist you!