Songsterr: Expanding The World Of Guitar Tabs
A Little Background
Songsterr debuted in August 2008, a curious and perhaps unlikely collaboration of Russian and American technology and ingenuity, and since then, has garnered over 152,000 Likes on Facebook and over 6200 followers on Twitter. Songsterr receives millions of visitors on their website, Songsterr.com, and features over 80,000 songs and more than 400,000 tabs. Those are some impressive numbers for a tab site that is just four years old.
In the simplest terms, Songsterr is an archive of guitar, bass and drums tabs. Any person with internet access can contribute new tabs or make changes to existing tabs, and according to their website, it is impossible to cause damage, as the software allows for easy reversal of errors. According to Oleg Lyubchenko, marketing manager at Songsterr, "recently, we implemented error report tools, so everybody can report errors in tab, vote up or down error reports that look useful or not useful, flag inappropriate error reports for deletion by moderators, or report off-topic, abusive, low quality, duplicates, etc." Have you ever looked over an online guitar tab and said to yourself, "What was this idiot thinking when he wrote this? It's completely wrong!"
Unlike other archive sites such as Chordie, where incorrect tabs are legendary, prevalent, and remain available online until enough people complain, this doesn't seem to be the case at Songsterr. Experienced Songsterr editors check all tabs to ensure accuracy, and, as stated earlier, participant members can easily report any errors that might slip through.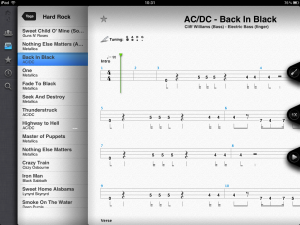 Why Choose Songsterr?
To quote reviewer Jason Kincaid in his August 2008 article on www.techcrunch.com, "One of the problems with typical guitar tablature is that it does a poor job representing rhythm and the duration that each note is played – both of which are essential. To remedy this, most people play a recording of the original song as they examine a tab so they can figure out when to play each note. But this process is frustrating and time consuming.
Songsterr is looking to skirt this issue by accompanying each song with an audio file that plays alongside of it." Kincaid's review was written almost immediately after Songsterr's unveiling. He made note that Songsterr lacked symbols for slides, bending, vibrato, and more. In all fairness, this issue has long since been corrected, and the symbols for these and much more are easily accessed in Songster's Help section. Songsterr has two plans available for users-Free and Plus.
The Free plan gives one access to all tabs contained, and what is referred to as a "subset" of features; Playback, Mixer, Solo and Count In. One needn't sign up for a Free plan to use the basics, but will allow you to contribute to the archive and use favorites. The Plus plan costs $9.90 per month and includes advanced player features, such as Print, Half Speed, Backing Tracks, Chromatic Tuner, Metronome, Focus Mode, Fullscreen, Loop, Tuner, and much more. Take it from me; you will want all the goodies paid membership provides.
And if you're wondering whether Songsterr is legal, rest assured it is. The site's paid subscribers allow Songsterr to pay royalties to artists, so everything is on the up and up. Unlike other tab sites that have been in and out of business, Songsterr isn't going anywhere anytime soon.
An interesting feature of the Songsterr iOS App, which is not supported on the website, is offline mode. It will run offline tracks you played when you were online.

The Songsterr iPad App
And finally, Songsterr launched a tab player App for iPhone, iPod and iPad in April 2011, the last of which will be of particular interest to our readers, allowing instant access to realistic playbacks of over 400,000 songs directly from Songsterr.com.
There's no need to upload tabs from your computer or download them from third party sites. iPad apps can be purchased from Apple's App Store, and of course, directly on Songsterr's website. An Android App was similarly launched in January 2012. Lyubchenko commented on the iOS App as follows, "An interesting feature of the Songsterr iOS App which is not supported on the website is offline mode. It will run offline tracks you played when you were online.
There is a section called 'History' with a list of tabs available for offline mode. You can access these songs not only from History, but also from other sections, such as most popular, tags, search and favorite. You don't have to play the whole song; you just need to wait a few seconds while the whole track is being uploaded to your device. "Also recently, in partnership with Jamplay.com, we launched a new section called Lessons in an iPhone version. This section gives you access to a few series of video guitar lessons."
While Songsterr has taken off like the proverbial rocket ship, there have been the inevitable detractors who compare and contrast Songsterr to older tab sites such as Ultimate Guitar and Guitar Pro. Having navigated through several of them myself, it appears those criticisms may have been unfounded. I particularly liked the rhythm notation and streaming audio file features on Songsterr, and found these to be very useful in helping me get a handle on certain tabs.
Check Out The Songsterr iPad App
www.Songsterr.com
www.facebook.com/songsterr
twitter.com/songsterr