"Have fun with it"
– The SF, California professional guitarist shares his wisdom or learning, becoming inspired and staying motivated.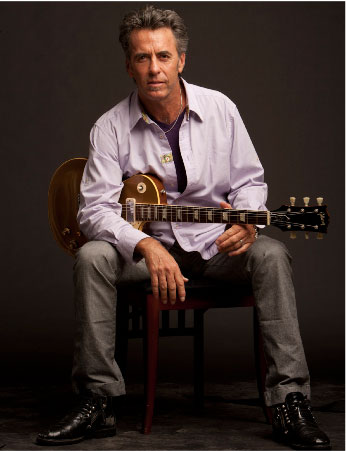 Background & Theory
San Francisco Bay area guitarist Jimmy Dillon is an accomplished and award-winning musician, singer, songsmith and teacher with an impressive record. Jimmy backed up the likes of Bruce Springsteen, John Lee Hooker, B.B. King, Carlos Santana and Bonnie Raitt, among many others before embarking on a solo career and recording 4 CDs to date.
A quick listen to just a small sampling of his repertoire reveals an eclectic mix of blues, rock, country and Latin styles. Just a glance at his homepage makes it clear that this guy is one active musician who continues to play a constant stream of solo and group gigs.
Jimmy is also a passionate guitar teacher with a series of DVD lessons for acoustic, electric, blues and slide guitar. He spends his summers teaching kids how to play rock and roll at Blue Star Music Camps in Michigan and San Francisco and gives online lessons as well. Jimmy offers the following advice to aspiring guitarists who are struggling to learn:
"Don't struggle too much. Have fun with it. Get with some better players and listen as much as you play. Remember the 4 T's – Touch,Tone, Time and Taste. Play with finesse, passion and melodic sense. Don't worry too much about speed, scales, shred[ing]. Rather, make it count. Be a good rhythm player. 'Lead guitar' is so overdone."
We couldn't agree more.
And for budding guitarists who may be seeking motivation, Jimmy recommends going to see live musicians for inspiration and mixing up what styles of music they expose themselves to. He believes this will help those learning guitar to "cross-pollinate" and "get out of the box."
Influences and Favourites
Among his favourite guitarists, Jimmy lists iconic names like Eric Clapton, Jimi Hendrix, Jeff Beck, Jimmy Page, Mark Knopfler, Keith Richards ("Keef Riffhard"), John Mayer and Pete Townsend, plus a slough of other guitarists both well known and well… perhaps a bit esoteric to the casual guitar player or guitar music fan: David Lindley, Derek Trucks, Buddy Miller, Harry Manx, Richard Thompson and slide guitarists Sonny Landreth, Ry Cooder and Leo Kottke. He's also equally forthcoming about his preferred instruments: "Clapton Strat with acoustic Baggs [pickup] in bridge. It does everything well. Martin OMC – workhorse, always reliable, great tone and playability. National Style O – super funky blues machine. Veillette Gryphon mini 12-string – beautiful for extra chimey stuff. James Trussart Silver Magnolia – great for electric slide. 1920s Chicago parlor guitar – incredible tone."
About Jimmy Dillon's Rockin' the Blues Deluxe DVD course
With his latest instructional DVD, Jimmy shares his secrets for playing the blues, from inventive chords, picking patterns, licks and tricks to open tunings, "internal melodies" and slide guitar techniques – all professional, yet "easy to use". The Rockin' the Blues Deluxe course has been designed to suit advanced beginner guitarists as well as intermediate to advanced players who would like to lean more blues or incorporate it into playing other music styles.
Jimmy sees blues guitar as the foundation for rock guitar.
"I wanted to illustrate how the blues is the roots and the rest is the fruits. If you can get soulful and gritty with the blues, your rock will be better for it. Consider Clapton, Keith [Richards], Jimmy Page, Hendrix, [Jeff] Beck etc. – they were all blues informed."
Teaching Style
The course consists of three one-hour DVDs, each containing 3-4 chapters. Jimmy uses his own songs as a platform to demonstrate blues techniques and styles. He believes that DVDs are a great teaching tool because they can be carefully crafted in order to make them just right. The student benefits from this care and the fact that he/she can revisit the lessons again and again.
When teaching, Jimmy likes to keep things relaxed. "For me the journey is always changing….If I stay loose and free with it things go well. Not too rigid or pedantic." A guitar teacher of 10 years, his favourite part of teaching is when the student experiences a breakthrough. "I like when there is an 'ah ha' moment and the student gets [it]. Often I learn as much as the student!" He adds, "My wish is to pass on what I've learned as a lifetime pro musician to aspiring players everywhere."
You can visit Jimmy Dillon's homepage jimmydillon.com for more information and to buy his music or DVDs. If you've got Spotify you can check out some of his solo CDs there as well as his work with San Francisco Music Club. Jimmy also recommends online guitar community www.guitarists.net for its "great vibe".