Rock Star Guitars From Eric Clapton, Bruce Springsteen, Jimmy Page, Keith Richards, Jack White and Many More Featured in Exquisite New Art Book 108 Rock Star Guitars.
By Photographer/Author Lisa S. Johnson with Foreword by Les Paul.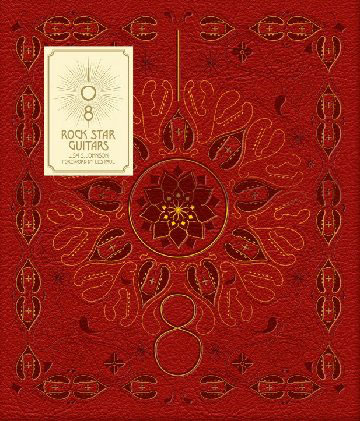 This exquisite, 396-page art book, bound in embossed red leatherette, features 300 images that reveal—through Johnson's signature macrophotography style—the intimate details, etchings, totems, and personal touches that embody the true spirit of the musician and that few—save for their stage crew—have seen from this perspective. Alongside these images, Johnson provides personal anecdotes describing her long quest to photograph these iconic instruments and documents her travels from the backstage hallways of some the world's most famous concert venues, to the artist's private homes.
"I remember the first black-and-white pictures Lisa took of my guitars… they were wonderfully evocative," writes the late legendary musician and inventor Les Paul in the book's foreword. "I never could have guessed that she would one day produce the extensive, impressive collection of photographs presented here—images unlike any I have ever seen. Lisa's passion for her subject is evident on every page of this magnificent book."
108 Rock Star Guitars is the culmination of Johnson's 17-year journey that began when she photographed Les Paul's guitar during one of his regular Monday night sets at New York's famed Iridium Club. Renowned for his innovations and recognized as one of the pioneers of the solid body electric guitar, he wrote the book's foreword a few months before he passed away in 2009. In his honor and memory, Johnson will donate a portion of the proceeds to The Les Paul Foundation, which supports music education, engineering and innovation as well as medical research.
Johnson's innovative guitar photographs can also be seen in the book Eric Clapton: Six-String Stories, where 47 of her images are featured along with archival photos by acclaimed lensmen Lord Snowden, David Bailey, Terry O'Neill, Dominique Tarle and others.
As a former technical sales rep for Kodak, Johnson shot extensively, experimenting with processes and every type of film she had in her inventory. In 108 Rock Star Guitars, she showcases a variety of the last film stock ever manufactured for Kodak Professional and the transition to digital, in her gorgeous homage to image and music.
This book is due for release September 2013. Check it out on Amazon here: