Andy Partridge shares some thoughts about the first guitar he ever bought, as well as some great anecdotes from some professionals within the business.
Almost everyone remembers the first guitar they bought, in much the same way as other "first time experiences" become instilled in your memory; like first houses, cars, loves and – ahem – sexual experience.
I still lovingly look at my Eko jumbo with its thin neck and distinctive scratch plate. I saw it for sale at a newly opened all-purpose music shop that did not sell electric guitars, but had a few acoustic and classical ones scattered haphazardly around the shop.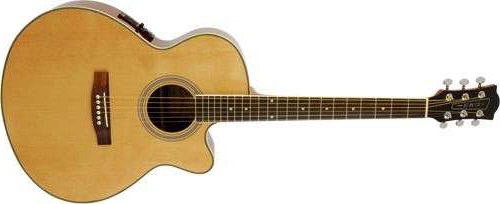 It looked big and bold and, as I was advised to start with an acoustic, I hoped this would give me the biggest sound possible without having to use an amplifier that I could ill afford. I picked it up and strummed the 2 chords I knew and, although the Eko did have a very full sound, I immediately fell in love with the tone and realized that, just maybe, guitar playing wasn't all about annoying the neighbours. My Em chord reminded of Horse with No Name by America, so I promised myself I would learn it by listening to my vinyl of America's greatest hits as soon as I got home.
It was definitely more luck than judgment that I selected the right guitar for me. I didn't try it out enough in the store but I grew to love everything about it. I hung it in my bedroom (much to my parents annoyance) so I could wish "him" good night and wake to the first thing I saw in the morning. My Eko was shapely, wanted to be played and, above all, made everything as easy for me as possible. To this day we are still soul mates.
Because of my lack of experience, I guess I got lucky to find something that was right for me and provided me with what I wanted, although I certainly didn't realize it at the time. And what a personality!!!!
The same story can be applied to my first electric guitar, a Columbus Strat copy. Unfortunately I reversed over it at a gig when the drummer decided to leave it (albeit in it's case) behind my car. Still a sad day!!!!
There are there are many anecdotes and quotes from legendary guitarists to describe their guitars and guitar playing and these particular ones remind me of what I feel every time I play or pick up a new axe for the first time.
Les Paul famously said "the guitar is full of surprises. If you play the piano and hit a key right there, that note is fixed on the keyboard and never moves. But on the guitar, that note is everywhere, absolutely everywhere…" And this is something you will hopefully experience from your first guitar.
Just as an aside, I would recommend taking someone with experience with you for you first purchase, to ensure he or she will be fit for purpose…………….but remember, only you can consider the aesthetic aspects, because when you move on towards the next level of guitar, you definitely want those tender memories to be enhanced by something of beauty. My Eko was a "he" because of his size!!!!
And finally, although probably not his first guitar, Graham Parker (one of my song writing heroes) animated "Going 'rocka rocka rocka rocka' on a Fender Telecaster is as close to sex as you can get!!!!!" Enough said.
By Andy Partridge