Before interest in vintage guitars began to increase in the mid to late 1970's, it was still easy to obtain a great vintage instrument at a very reasonable price. After all, they were just "used guitars," right? Old guitars were a dime a dozen, hanging in pawn shop windows, carelessly shuffled around and sometimes hidden behind the racks of shiny new Stratocasters and Les Pauls.
Gradually, our guitar heroes began extolling the virtues of older guitars, how they were better made than current models, how the older ones had that elusive "mojo factor." Vintage guitars became investments, collectibles, with steadily rising prices, and there appeared to be no end to the madness…until the world's economy tanked in 2008, and the vintage guitar market generally took a nosedive. The optimistic called it a "market correction." Call it what you will, the bottom line was, discretionary income vanished for millions of people. Guitars are a luxury item for most people, particularly very expensive ones.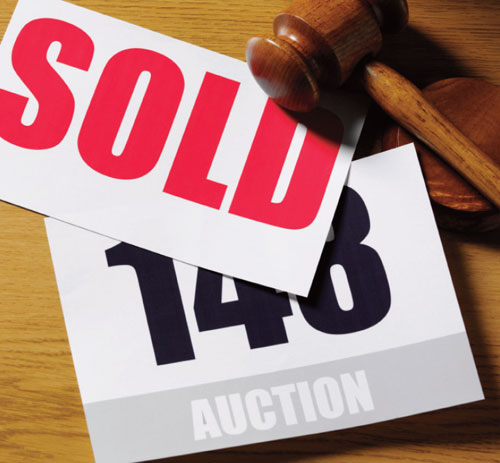 Now, in 2013, with a rosier economic picture ahead, interest in buying vintage guitars is again on a modest upswing, and traditional auction houses, usually the bastion of antiques, collectible furniture and artwork of all types, have embraced vintage guitars with a passion. One such British auction house is Gardiner Holgate, located in Corsham, close to the Georgian Bath and M4 motorway. They claim to handle over 50,000 lots per year in 48 specialist auctions, and are the leading auctioneers of guitars in the UK.
Twenty-six year old Luke Hobbs, a guitarist himself since age eleven, is auctioneer at Gardiner Holgate, the man who oversees guitar auctions, and has worked for the company since 2007. He coordinates guitar sales, carries out evaluations and oversees cataloging, photography, web promotion and website maintenance.
"When I started in 2007, I came in as an auction porter and knew little about the auction industry. I gradually worked my way up to being a processor/ valuer/cataloguer working in the musical instrument department and general sale. My background in guitar gave me an interest in this side. When I started, we sold a few guitars. This gave me a grounding into the history and valuations of the guitar. Guitar sales have been building over the past few years, and now, we have decent sales of over one hundred lots of guitar each time."
Musical instrument auctions at Gardiner Holgate have been going on for twenty-five plus years, but dedicated guitar auctions started in earnest in 2011, when the company created a subsidiary website to sell a very good collection of 1960's Gibsons and Fenders in October of that year.
Gardiner Holgate doesn't just specialize in aged vintage guitars.
"We sell all sorts. Mainly at the mid-range level, the two hundred to two thousand pound range, including a lot of the '80's guitars that are now becoming more rare and collectible. There is always that exception, and we often realize between five thousand and ten thousand pounds for that special something!
"We sell mainly electrics, but acoustics always feature. We cater for everyone; dealers, players, collectors, amateurs and professionals. We sell guitars for as little as fifty pounds, right up to our record of thirteen thousand pounds, which was for a Fiesta Red 1963 Fender Strat. If you have a guitar, we can sell it!
"We will sell anything from fifty pounds and up, and we will sell a guitar even if it's knackered! It helps if the seller is open-minded and understands the auction vs. retail market."
We asked what trends Luke was seeing at the auctions.
"People are discovering us more as time goes on, and realizing that if they want to sell, we are the only specialists in the country. We also favor eBay in terms of rates, and we do all the work for our clients, plus get as good prices as eBay. The guitar market has decreased in recent years, and with the recession, it will probably not get better for the foreseeable future. The general feeling is that is now time to sell, rather than wait for the market to be flooded with too many collectors coming into the market at once.
"Auctions are held four times a year, in March, June, September and December. We get all sorts of people, but mainly players looking for guitars at a good price. It's no secret you can pay less at auction than you would have to pay in a shop. We do find that dealers are also competitive, but mostly, it's players and collectors of all age ranges. I have had parents buying their children's first guitars."
We also asked Luke how a person would go about putting a guitar into auction.
"First, contact me for an initial enquiry/valuation. Once this done and they agree to our terms and conditions, then the guitar needs to be brought to our auction house. We fill out paperwork to provide a receipt. Bigger collections from far afield can be collected by couriers. We will then process the guitar, do the photography, and it will go up on our website for people to see what we have coming. This gives the guitars maximum exposure.
"We've had people travel worldwide to attend our auctions. It's normal in this industry. We see people from Europe, Asia and the USA, although the majority of people who buy guitars while physically attending are from the UK.
While the auctions are going on, telephone and Internet bids are coming in.
"Bidding these days is mainly done via the-saleroom.com. We can have as many as two hundred logged on waiting to bid at their computers live as the auction is going on. This gives our sales maximum international exposure, and allows anyone to bid worldwide in any time zone. We also accept phone bidders.
Luke had stated that Gardiner Holgate's most expensive instrument sold was that '63 Strat, but what was the most expensive guitar he's seen sold?
"It was Eric Clapton's 'Blackie' that holds the record for a guitar at auction at $959,000. That sold in 2004 at Christie's.
If someone was new to guitar auctions, what tips and advice would you give them?
"For sellers, we will get you a good price, and we have a good track record in terms of prices and personal service. For buyers, know exactly what you are buying and always ask for advice if you are unsure. We are happy to offer free advice without obligation."
By Bob Cianci