What Do The Top Brands Have To Offer?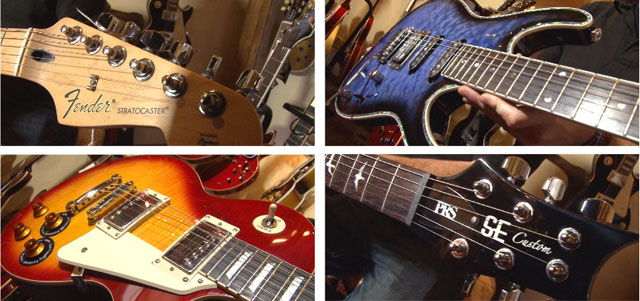 Whether you're an experienced musician, acoustic guitar player or an absolute beginner, choosing the right starter electric guitar requires careful thought, research and experimentation. If you go in blind, you're much more likely to end up disappointed and minus your hard-earned cash.
As with most important purchases, consider a few key factors while looking for a good entry-level electric guitar.


Where to buy
Although online shopping is all the rage, it is strongly advisable to personally experiment before buying. This usually means going into a guitar store and seeing how different guitars feel in your hands. Is it the right size, the right shape, the right weight for you? Don't worry if you can't play a single chord. Ask the salesperson for advice, assistance and even a demonstration. Find something that's comfortable and inspiring to play.
It's also a good idea to bring along a knowledgeable friend for an extra, informed opinion. Many shops offer quality, inexpensive used electric guitars which have been inspected and set up so that they are in good working order. New or used, if you're willing to put in a bit of time and effort, you can get some significant bang for your buck, so shop around, ask your guitar-playing friends and read up on recommended places to buy in your area.
Musical style
Are you into rock, blues, jazz, funk, metal, punk? All of the above? Choose a guitar that has the sound(s) you're looking for. Gibson's Les Paul guitars are heavy on sustain, but that can also mean heavy on your back and shoulders. Les Paul models generally come with humbucker pickups, giving them a warmer, fuller sound. The classic Fender Stratocaster ("Strat") is lighter and more comfortable, with 3 single coil pickups for more brightness and tonal range. The varieties of wood used in the construction of the guitar, such as maple, alder, ash or basswood, also influence tone and sustain.
Make/model
Trusted brands like Fender and Gibson are generally considered "safe bets" when it comes to electric guitars, but the individual model and specific guitar can make a big difference. Fender Strats are known for their comfort and playability and are therefore generally considered to be great beginner guitars. Squier and Epiphone are less expensive lines – made by Fender and Gibson, respectively – which offer some affordable options of good quality. Other trusted companies include Paul Reed Smith (PRS), Ibanez and Yamaha. There are loads of other quality makes out there – from Gretch to Rickenbacher to ESP – with products in a variety price ranges, so you needn't limit yourself to the "top 2".
Starter packages
If you're in search of maximum convenience, economy and are starting from scratch, you might want to check out a beginner pack. Fender offers some inexpensive packs in their Squier and Stratocaster ranges which, besides the guitar, include a small practice amplifier, gig bag, strings, a strap, a cable and plectrums as well as (sometimes) extra goodies such as a chromatic tuner, instructional DVD and headphones. All you need to launch yourself into the world of electric guitar playing.
Check Out Guitar Village in the UK: www.guitarvillage.co.uk