Ultimate Guitar Tabs HD for iPad.
If you use guitar tab, then you'll no doubt be familiar with Ultimate Guitar. So what does the Ultimate Guitar app have to offer that makes it any different from the web site? In short, plenty!

From the moment you launch the app, the difference becomes clear. The simple contemporary interface offers the user an easy way to explore the vast number of tabs and other features.
The advanced search allows users to really explore this huge database over over 800,000 tabs, by Type (i.e. Chords, Tab, Tab Pro etc), Parts (i.e. song part; intro, solo etc), Ratings (start rating based on quality), Difficulty and Tunings.
By providing these advanced search options, you can get more directly to what you want, easier and faster.
But this app provides so much more than just an easier access to the tab. It's the tab itself that has also evolved.
Within the app there are two main type of tab, the regular Tab and Tab Pro. In the video we go a little more into the features of Tab Pro, but even the regular tab is not light on features.
Once you're at a specific tab, you can tap any chord name to reveal the chord chart and chord inversion. You can also view all the chords for the complete song, you can auto-scroll the tab to keep up with your playing and even transpose everything to a higher or lower key.

The Tab Pro takes things to a whole new level with an even more feature-rich experience. You can hear the tab being played, isolate specific instruments in the mix, speed it up or slow it down, set up and and loop specific sections of the song or riff.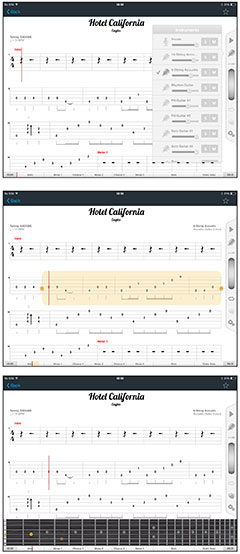 You can change from left handed to right handed, have a count in, and add realistic sound packs.
The combination of all these features clearly demonstrates how tab is evolving with greater use of technology, from static pages, to a real interactive learning experience.
The app also has additional features such as Tab Of The Day and the Now Playing feature, that allow you to match songs you're listening to and the Tab.
The Verdict:
Although this is probably not for the purists or professionals, who would prefer to transcribe songs for themselves, it's for everyday players, who are looking for a quick and easy way to learn their favourite songs.
We recommend you download it and give it a test run for yourself!