Brown Eyed Girl Guitar Lesson.
Brown Eyed Girl. Song Background
If you ask anyone to name a Van Morrison song, you can bet your bottom dollar most people would say Brown Eyed Girl. The iconic intro (using double-stops) along with the unforgettable melody and sublime lyrics, make this a must learn easy guitar song.
Brown Eyed Girl was written by Morrison, recorded in March 1967 and released as a single in June 1967, peaking at No. 10 on the Billboard Hot 100. It has been recorded by hundreds of artists and, believe you me, this is not an exaggeration.
The song's nostalgic lyrics about a former love were considered too suggestive at the time to be played on many radio stations. A radio-edit of the song was released which removed the lyrics "making love in the green grass", replacing them with "laughin' and a-runnin', hey hey" from a previous verse. This edited version appears on some copies of the compilation album The Best of Van Morrison.
Have a listen to the original version of Van Morrison playing Brown Eyed Girl to really get a feel for the song
Brown Eyed Girl Guitar Overview
Simple chords and strumming patterns mean Brown Eyed Girl is a must for all beginner guitarists, and is all the more appetising because of the sing-a-long chorus. A few beers, campfire burning and willing joiners to "your" tune. What is there not to like?
So to get started, let's have a look at the chords.
Brown Eyed Girl Guitar Chords
The chords for Brown Eyed Girl are not too complicated to learn, and the rhythm pattern is relatively straightforward. However, if you listen intently enough, you will hear the great underlying electric guitar which picks out notes that resemble the actual melody. Once you learn to play the song, it will enable you to ramp up your skills to the next level and have a crack at playing the intro and underlying picking guitar.
The original was recorded at 148bpm. Chord diagrams generated from Guitar Toolkit (a great App!)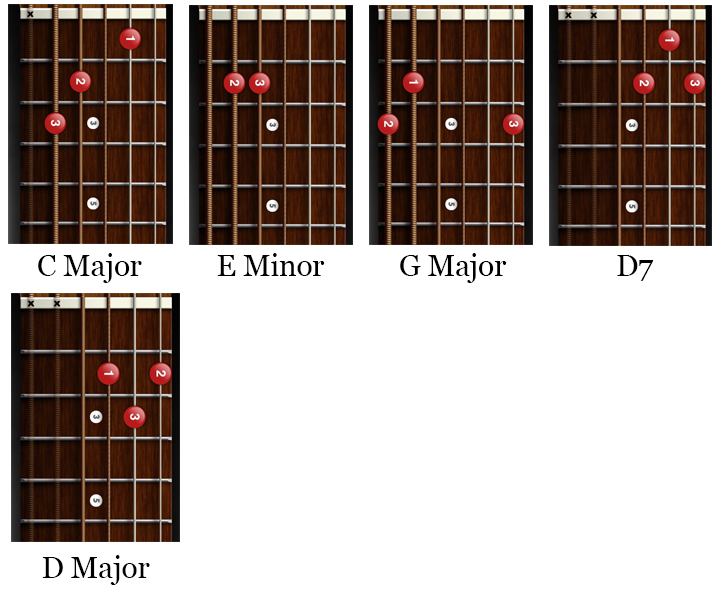 Brown Eyed Girl Strumming Pattern
The basic strumming pattern is relatively easy to master, with a couple of embellishments to add to some colour to what you are playing.
The basic pattern looks like this: D D U U D U. And to help you along, here is the structure of the song.
Brown Eyed Girl Song Lyrics
Intro
G … C … G … D7 … X 2
Verse 1
G                         C
Hey where did we go
G                           D
Days when the rains came
G                     C
Down in a hollow
G                  D
Playing a new game
G                               C
Laughing and a-running, hey hey
G                             D
Skipping and a-jumping
G                         C
In the misty morning fog with
G         D
Our hearts a-thumpin'
Pre-Chorus
C         D               G     Em
And you … my brown-eyed girl
C           D             G          D7
You're my … brown-eyed girl
Verse 2
G                             C
And whatever happened
G                     D
To Tuesday and so slow
G                         C
Going down the old mine with-a
G                   D
Transistor radio
G                             C
Standing in the sunlight laughing
G                             D
Hiding behind a rainbow's wall
G                       C
Slippin' and a-slidin'
G                   D
All along the waterfall
Pre-Chorus
C   D                         G     Em
With you … my brown-eyed girl
C          D              G           D7
You're my … brown-eyed girl
Chorus
D7
Do you remember when … we used to sing
G       C           G                     D
Sha la la la la la la la la la la ti da… just like that
  G         C           G                     D         G
Sha la la la la la la la la la la ti da… la ti da
Break
G … C … G … D …
G                           C
So hard to find my way
G                           D
Now that I'm all on my own
G                                  C
I thought it just the other day
G               D
My how you have grown
G                               C
Cast my memory back there, Lord
G                                             D
Sometimes I'm overcome thinkin' about it
G                                 C
Making love in the green grass
G                         D
Behind the stadium
Pre-Chorus (Repeat)
Chorus (Repeat)
Now it's all down to you – so watch the video lesson to nail this completely
——————————————
If you've enjoyed this lesson then check out more of our easy guitar songs:
———————————–