Tequila Sunrise Guitar Lesson. The Eagles, Easy Guitar Songs.
Overview
Another Henley/Frey classic, this time from The Eagles second album, Desperado………which, incidentally, is Andy's favourite. In case you missed it, you can watch the Lyin Eyes guitar lesson right here under our easy guitar songs category.
Tequila Sunrise was released as a single in 1973 and, unbelievably, only peaked at number 64 on the Billboard Hot 100. Although, since then, it has gone on to be an absolute classic – well, to be honest, it always has been.
The idea for the song came about because these two Eagles members needed "a shot of courage" to chat up the ladies and downing a few tequilas helped with their quests. Glen Frey thought the title was very clichéd, but when Don Henley explained it in the context of watching the sun come up after a shed full of tequila the night before, he changed his mind.
And so a tremendous song with the usual exemplary melody lines and harmonies was born.
Incredibly, this track was written in the same week as Desperado……how do they do that?
Tequila Sunrise Guitar Lesson. Introduction
As soon as you here the opening chord, you will know you are listening to Tequila Sunrise. The distinctive melody is creating by playing a G chord and hammering on to the E note (the second fret of the D string to create a chord called G6) and, although something very simple, it somehow manages to create a distinctiveness all of its own. It's probably the rhythm pattern, combined with the smooth textural sound that creates this – genius song writing
The main (recognisable) rhythm pattern will take practice as there is a hammer-on that requires execution whilst maintaining the pattern. The chords not too onerous, although there is a bloomin' lot of them, so this will also be a test of your muscle memory. Having said that, this should be something you will be able to master without too many frustrations kicking in… well we hope so anyway.
---
The Chords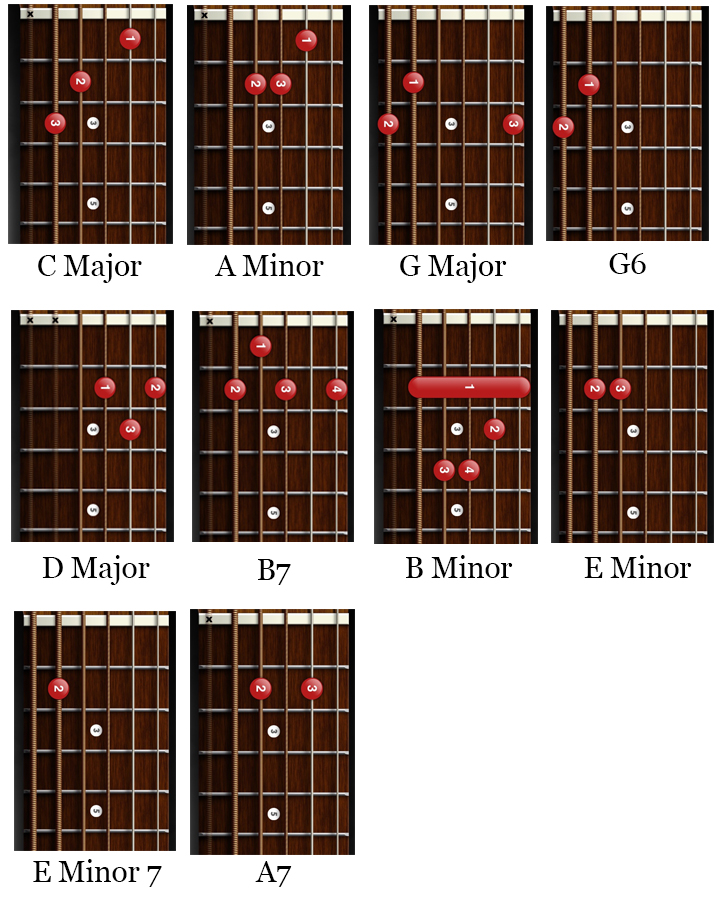 Song Structure
Intro: G-G6 G-G6 G-G6 G-G6 Am D7 G-G6 G-G6
Verse 1
G D
It's another Tequila Sunrise
Am
Starin' slowly 'cross the sky
D7 G G6 G G6
Said goodbye
Verse 2
G D
He was just a hired hand
Am
Workin' on a dream he planned to try
D7 G-G6 G G6
The days go by
Bridge:
Em C
Every night when the sun goes down
Em C Em
Just another lonely boy in town
Am D7
She's out runnin' round
Verse 3
G D
She wasn't just another woman
Am
And I couldn't keep from comin' on
D7 G-G6 G G6
It's been so long
G D
Oh and it's a hollow feelin'
Am
When it comes down to dealin' friends
D7 G-G6 G G6
It never ends
Solo: G-G6 G G6 D Am D7 G-G6 G G6
Middle 8:
Am D Bm
Take another shot of courage
E Am B7
Wonder why the right words never come
Em7 A7
You just get numb
Verse 5:
G D
It's another tequila sunrise
Am D7
This old world still looks the same
D7 G-G6
Another frame
Outro – G-G6 G-G6 G-G6 G
——————————————
If you've enjoyed this lesson then check out more of our easy guitar songs:
———————————–
Easy Guitar Songs. What are your favourites?
Category: Easy Guitar Songs